Valentina MORALES VALDES
---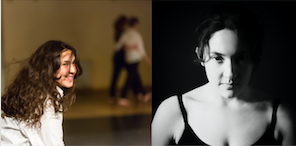 In June 2019, Valentina Morales Valdés obtained the Doctor's degree in Aesthetics, Art Sciences and Technologies – specializing in Dance and Gestural Arts with a dissertation titled « Une corporéité de la solitude. Pour une esthétique de la danse de Pina Bausch [Corporeity in loneliness. Towards an aesthetics of Pina Bausch's dance] ». Her study offers an opportunity to regard the choreographer's style through the notions of solo and solitude in dance, while deeply analyzing the gestural and dancing forms of corporeity within her work.
Born in 1985, Valentina Morales Valdés was trained in contemporary dance in Santiago, Chile, at Academia de Humanismo Cristiano University (« Espiral »), with Patricio Bunster. In 2010, she graduated as choreographer and dance teacher, and started working as a choreographer and independent dancer. That very year, she won the competition of the national Art fund in Chile (FONDART) for the creation of her cross-disciplinary work « Un Viaje a Macondo » (2011), after Gabriel García Márquez's novel, « Cent ans de Solitude [One Hundred Years of Solitude]».
She arrived in France in 2011 aiming to start researching about Pina Bausch (1940-2009) and her aesthetics of dance. In 2013, she obtained a Master's degree in research at Paris 8 - Saint-Denis University's dance department, with a dissertation supervised by Isabelle Ginot and titled « Où est Pina ? Regards, états des corps et modes de présence : Quelques approches pour une analyse gestuelle de la danse de Pina Bausch [Where's Pina ? Gazes, corporeal states and presential modes : a few approaches towards a gestural analysis of Pina Bausch's dance]». In 2013, she made the most of a Chilean national scholarship for doctoral studies abroad (CONICYT) enabling her to continue her research about Pina Bausch, under Isabelle Ginot's supervision.
Between 2013 and 2015 in Chile, she launched a project enabling several dancers who had worked with Pina Bausch to bring independent performances, danced lectures and technical (or creative) workshops, for Chilean and Latin-American dancers and dance-students: in July 2013, with the Trio CDT (Clémentine Deluy, Thusnelda Mercy, Damiano Ottavio Bigi, Scott Jennings) ; in July 2015, with Daphnis Kokkinos ; in August 2015, with Pablo Arán and Jorge Puerta.
Since 2015, Valentina Morales Valdés has begun teaching as a free-lance contributor, invited in different centres in Chile and in France (Centre National de la Danse, Conservatoire National de Musique et Danse de Lyon, Paris 8 Universty) to perform danced lectures and run training sessions about her research, providing a theoretical-practical methodology as a common work basis.
From 2019, she has been living in Wuppertal in Germany ; she was invited by Sophia Otto and Bénédicte Billiet, as an assistant-choreographer for the 2019 creation Entre-temps au grenier, later to be a co-founder of the dance company « Entretemps » as from Summer 2019.
---

Communications publiées
« Danser chez Pina », Des approches pour énoncer l'expérience de danse chez Pina Bausch in Nicolas Burel (dir.), Corps et méthodologies, Paris, L'Harmattan, 2016, p.131-142
http://www.danse.univ-paris8.fr/chercheur.php?cc_id=3&ch_id=380
---