Pedro SOUSA BITTENCOURT
---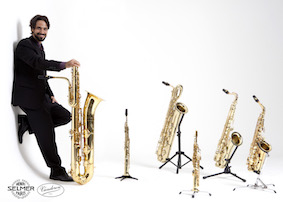 A saxophonist, professor and researcher, dedicated to art music and musical creation. He has performed in several festivals in Brazil, France, Germany, Switzerland, Portugal, Spain, Slovenia, Canada, Mexico, Chile, Cuba and China. A doctor in Aesthetics, Sciences, and Technologies of the Arts / Music (MUSIDANSE/ Centre d'Informatique et Création Musicale [CICM, I.T. and musical creation centre]) of Paris 8 University, France, with a research on mixed music varieties with saxophones (2015) supervised by the composer and emeritus professor Horacio Vaggione.
Recipient of an FCT grant (Fundação para a Ciência e Tecnologia [Foundation for Science and Technology]), Portugal, he holds a DEA degree Arts et Sociétés Actuelles/Musique ([Arts and contemporary societies / Music] 2005) at Bordeaux III University, with a dissertation about Oresteia by Xenakis, supervised by Marie-Bernadette Dufourcet and Makis Solomos. Since 2012 he has been a tenured professor of saxophone at Rio de Janeiro Federal University (UFRJ), Brazil. Since 2016, he has been a teacher-researcher for PPGM [Academic Master's degree / Doctorate] and PROMUS [Professional Master's degree] of UFRJ. He is also the director of the ensemble of saxophones Conjunto de Saxes da UFRJ, and the creator of the university extension project « Mixed Music Days / UFRJ ». He is a founding member and director of ABSTRAI ensemble (contemporary chamber music) and a regular performer both as a soloist and a musician for the major symphonic orchestras in Rio de Janeiro : Orchestre Symphonique Nacional (OSN-UFF), Brazilian Symphonic Orchestra (OSB), City Theatre Orchestra in Rio de Janeiro, and UFRJ Wind Orchestra. Several times an artist in residency at ZKM Institute of Music and Acoustics in Karlsruhe, Germany (2006-2013), where he recorded the CD ENLARGE YOUR SAX published in Germany under the Wergo label (2015). He studied saxophone and chamber music with Marie-Bernadette Charrier (Conservatoire National de Région in Bordeaux (Diplôme d'Études Musicales et Perfectionnement [Advanced diploma in Musical Studies], 2001-2004). Master's degree in communication / radio-journalism at UFRJ (2000). A-level at São Bento High School in 1992. He started the saxophone classes with Mecenas Magno in Rio de Janeiro.
Pedro S. Bittencourt plays Selmer saxophones (sopranino, soprano, alto, tenor, barytone, bass), using Vandoren mouthpiece and reeds.
---
Articles dans des revues à comité de lecture
BITTENCOURT, P. S. [2014a] « The performance of Agostino Di Scipio Modes of Interference n.2 : a collaborative balance », SOLOMOS, M. (ed.) Contemporary Music Review, Vol. 33, No 1, Special Issue : Agostino Di Scipio : Audible Ecosystems, éd. Routledge, Londres, p. 46-58 http://dx.doi.org/10.1080/07494467.2014.906697
BITTENCOURT, P.S. [2013]Interpretação participativa na música mista com saxofones : Livro da escuridão, Plexus e Modes of Interference 2, in Revista Ideas Sonicas Año 6, No. 11, Julio-Diciembre 2013, p. 83-101.http://www.sonicideas.org
BITTENCOURT, P. S. [2013] « Interpretação participativa na música mista contemporânea », Revista Interfaces n°18, Vol. I/2013, Centro de Letras e Artes UFRJ, éd. 7 Letras, Rio de Janeiro, p.104-115 Disponible sous forme électronique : http://www.cla.ufrj.br/index.php/2013-06-07-14-47-23/edicoes-publicadas/57-interfaces-edicao-2013-numero-18 Consulté le 27.01.14
BITTENCOURT, P. S. [2013] A proposta pedagógica e artística do Conjunto de Sax da UFRJ, Revista Ensaios, Revista Cultural do Conservatório de Tatuí n°79, Março-Abril 2013, ed. Conservatório de Tatuí, São Paulo www.pedrobittencourt.info/#works/texts
Chapitres d'ouvrages
BITTENCOURT, P. S. [2015] « Saxofones (palheta simples) », in VIEIRA FILHO, J., Manual de reparo e manutenção de instrumentos musicais de sopro, edições Funarte, Ministério da Cultura, p.204-205.
Communications publiées
BITTENCOURT, P.S. [2014b] « Interpretação musical participativa e repertório misto recente : novos papéis para compositores e instrumentistas ? », in AVVAD, A.P..M. M., FAGERLANDE, A.M.R. (org.) Anais do I Simpósio em Práticas Interpretativas UFRJ-UFBA, p.59-69 Disponible sous forme électronique : http://ppgm.musica.ufrj.br/index.php?option=com_content&view=article&id=492&Itemid=215
BITTENCOURT, P. S. [2013e] « Une lecture de Modes of Interference 2 (2006) pour système de rétroaction, saxophone et électronique, d'Agostino Di Scipio », Actes des Journées d'Étude 60 ans de Musiques Mixtes, OMF-Mint, Université Paris IV Sorbonne, à paraître Disponible sous forme électronique : www.pedrobittencourt.info/#works/texts
BITTENCOURT, P. S. [2013] « L'interprétation participative dans Modes of Interference n.2 d'Agostino Di Scipio », Actes du Colloque Musique et écologies du son — projets théoriques et pratiques pour une écoute du monde, Université Paris 8 , 27 – 30 Mai 2013. http://www-artweb.univ-paris8.fr/spip.php?article1677
BITTENCOURT, P. S. [2013] "Uma leitura da adaptação musical de Iannis Xenakis da tragédia grega "Orestes" de Ésquilo" in VOLPE, M.A. (org.) Patrimônio Musical na Atualidade : Tradição, Memória, Discurso e Poder. Actes du Symposium International de Musicologie UFRJ vol.3, Rio de Janeiro, p. 175-189 Disponible sous forme électronique : https://www.researchgate.net/publication/263501333 Consulté le 30.06.14
MAYS, T. [2013] BITTENCOURT, P. S. [2013] « Modulateurs en anneau et saxophone : le dispositif d'écriture mixte et l'interprétation participative dans l'œuvre Le Patch Bien Tempéré II, » Actes des Journées d'Informatique Musicale 2013, Université Paris 8, Disponible sus forme électronique : http://www.mshparisnord.fr/JIM2013/ Consulté le 01.12.13
BITTENCOURT, P. S. [2012] "Colaboração saxofonista-compositor na criação musical mista : Plexus para sax tenor e eletrônica, de Arturo Fuentes" in VOLPE, M.A. (org.) Teoria, Crítica e música na atualidade. Actes du II Symposium International de Musicologie à UFRJ, vol.2, Rio de Janeiro, p. 223–228, Disponible sous forme électronique : http://www.musica.ufrj.br/posgraduacao/images/sim/anaisIISIM-UFRJ2012.pdf Consulté le 12.03.13
Autres
BITTENCOURT, P. S. [2015] Interprétation musicale participative — la médiation d'un saxophoniste dans l'articulations des compositions mixtes contemporaines, thèse de doctorat, CICM, Université Paris 8, Vincennes Saint Denis https://dl.dropboxusercontent.com/u/17670087/BITTENCOURT_Pedro_S.-THESE-2016-Interpretation_Musicale_Participative-Universite_Paris8.pdf
BITTENCOURT, P.S. [2015] Enlarge your sax, CD WER 20742, Wergo, Allemagne https://de.schott-music.com/shop/enlarge-your-sax.html
BITTENCOURT, P. S. [2005] Une lecture de l'Oresteia de Xenakis, mémoire de D.E.A. (Master 2) Arts et Sociétés Actuelles/Musique, Université Bordeaux 3 www.pedrobittencourt.info/#works/texts
Site dédié :
---