Philippe MICHEL
---
Maitre de conférences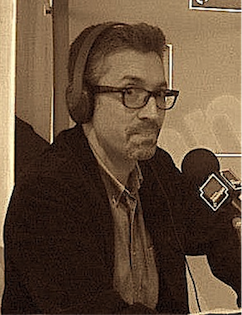 A pianist, composer, doctor in « Aesthetics, Art Sciences and Technology » (defended thesis on: « Problems of formal perception in XXth century Western music » 1997),
Philippe MICHEL conducts research on XXth century music, particularly on jazz music (having a strong interest in the updating of creation processes and discussing the limits of the concept of artwork). As an outcome of this research several articles have been published, lectures have been held and radio-programmes broadcast.

His teaching experience ranges from Art school professorship in a Conservatory, specializing in jazz (piano), to university lecturing in musical analysis, mainly in the field of jazz — this was notably the case when he started developing musical lectures with jazz-band or orchestra, half-way between living music and artistic mediation.

Presently a lecturer, authorised to supervise research, in the Music Department at Paris 8 University, he co-directs the Musicology Master Degree (Music and Sound Creation program), and, as from 1999, is the educational coordinator of the « Jazz & improvised music varieties » stream (please click here http://www.musique.univ-paris8.fr/jazz/).
---
Publications
Sélection d'articles :
- « Orfeu Negro, recherches et créations autour d'un mythe partagé » in Orphée aujourd'hui : Lire, interpréter... (coll), Paris, L'Harmattan, 2019
- « La question de l'auctorialité partagée en jazz : l'exemple de Miles Davis », in Déméter (revue en ligne), thématique Œuvrer à plusieurs (http://demeter.revue.univ-lille3.fr/lodel9/index.php?id=896), CEAC, Université de Lille 3, 2018


- « Faire du long avec du court. À propos d'une autre conception du temps musical dans le jazz des années 1950 – 1960 », in Musique et formes brèves (coll.), Peter Lang, 2018
- « Commentaires jazz(istiques) sur l'écologie du son et la musique », in Musique et écologies du son, propositions théoriques pour une écoute du monde (coll.), Paris, L'Harmattan, 2016
- « One more time. Le sens de la répétition dans les processus formels du jazz », in, L'art de répéter, Psychanalyse et création (coll.), Rennes, PUR, 2014
- « Histoire(s) du jazz en région lilloise des années 1930 à nos jours », in La catastrophe apprivoisée ; regards sur l'histoire du jazz en France (coll.), Paris, Outre Mesure, 2013
- (avec Guillaume LOIZILLON), « Jazz et musique électroacoustique : le rôle de la technique dans deux approches "audiotactiles" de la création musicale », in Technique et création (coll.), Paris, L'Harmattan, 2012
- « Giant Steps, la liberté gagnée sur / par la contrainte », in John Coltrane, L'œuvre et son empreinte (coll.), Paris, Outre Mesure, 2011
- « Reprendre un "thème" de jazz, entre interprétation et improvisation », in Volume !, n°7-2, Paris, 2010
- « Quelques aspects d'une conception africaine-américaine du rythme dans le jazz "moderne" d'après-guerre », in Filigrane, n° 10, Musique et Rythme, Paris, 2009
- « Giant Steps, freedom won over / by constraint », in Jazz Research Journal n° 3-1, London, Equinox Publishing, 2009
- « Jazz et musique occidentale écrite du XXe siècle : convergences et antinomies morphologiques », in Filigrane, n° 8, Paris, 2008
- (avec Makis SOLOMOS), « Improvisation générative, improvisation libre. Entretien avec Vincent Lê Quang et Alexandros Markeas », in Filigrane, n° 8, Paris, 2008
- « Que signifie improviser en jazz ? » in Eurêka, le moment de l'invention (coll.), Paris, L'Harmattan, 2008
- « La question des temporalités dans le processus créateur d'une musique contemporaine : le jazz » in Cahiers Thématiques, n° 7 (Contemporanéité et temporalités), Paris, Jean-Michel Place, 2008
Productions artistiques théorisées :
Nombreuses rencontres avec des artistes de rang international (voir http://www.univ-paris8.fr/Jazz), conférences-concerts et concerts-lectures (voir par ex. la journée consacrée en 2014 à Archie Shepp, pour la remise du titre de Docteur Honoris Causa de l'Université Paris 8 à l'adresse : http://www-artweb.univ-paris8.fr/?Concert-de-cloture-de-la-ceremonie).
Liste indicative des artistes et chercheurs reçus à Paris 8 (pour certains dans le cadre d'un partenariat établi en 2000 avec le Festival Banlieues Bleues) :
Paolo Angeli, 
Amiri Baraka (alias LeRoi Jones), Billy Bang, Joey Baron, Eric Barret, Emmanuel Bex, Samuel Blaser, Paul Bley, Bruno Blum, Joe Bowie, Vincenzo Caporaletti, 
Steve Coleman, François Corneloup, Vincent Cotro, Laurent Cugny, Anthony Davis,
 Ernest Dawkins, Jack DeJohnette,
 Marc Ducret, Jean
Gobinet, Vin Gordon, Happy House / Olivier Benoit, Roy Haynes, Klod Kiavué, François Laizeau, Jean-Luc
Landsweerdt, Dave Liebman,
 Abbey Lincoln,
 David Murray, Gilles Mouëllic, Zim Ngqawana, Simon Spang-Hanssen, Claus Stötter, John Tchicai,
 Walter Thompson,
 François Tusques, Mal Waldron, Annie Whitehead, etc.
---